25.3 oz Stainless Steel Drink Shaker Bar Shaker with Built-in Strainer For Bartenders
VOLUME:
25.3 oz (750ML)

18.6 oz (550ML)

11.8 oz (350ML)
$ 13.99
All-in-one solution: this classic cobbler shaker (Select Available Shaker Volume: 25.3 oz /750ML, 18.6 oz/550ML, 11.8 oz/350ml) has included a built in strainer and a jigger cap 1oz. No need for more bar tools accessories or big bartender kit if you prefer Simple.

Easy to use: make professional level craft drinks with fun; best choice for home bar, pro mixologist and restaurant for drink mixing with this drink shaker tins. Easy pour.

Made to Last: Upgraded 304 stainless steel drink shaker is your best bet, which is specially thickened to protect itself from rust for lifetime and remain shiny and new after years of shaking, and it can withstand lots of rough and tumble, even being dropped, without letting you down.

Leak proof: changes in temperature cause the metal to contract thus creating a tight seal on this bar shaker cup; no leak once fit properly. Perfect for making beverage or drinks.

Gift idea: Nice gifts for mom, father and drink lovers. This tending barware is aslo great present for father's Day, wedding, birthdays, Valentine' s Day, Christmas, Anniversary, New Year and new house warming.
Mixing drinks is easier when you have the right tools. This finely made Cobbler shaker allow you to craft professional-level Drinks with fun regardless of your mixology experience. This classic bartending shaker is easy to use for mixing perfect drinks. It is a good choice and essential barware for bartenders, home bar and party.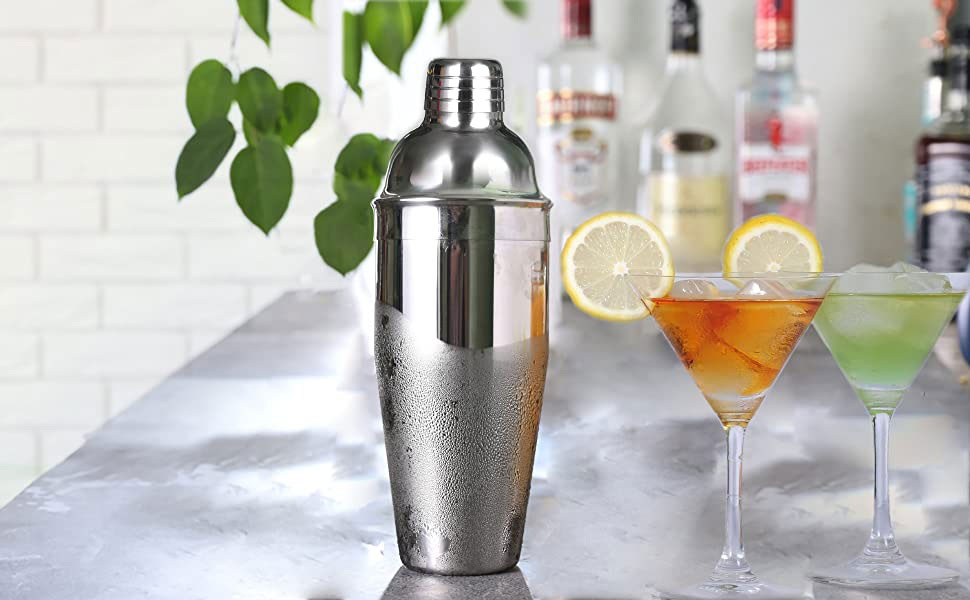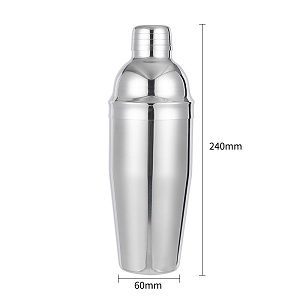 Nice Cobbler Shaker For Bartender
The Cobbler Shaker is constructed with the highest quality 304 stainless steel mirror finish and holds up to 25 ounces (2-3 drinks). It is well balanced and feels great in your hand, certain to be the most used piece of your bar equipment.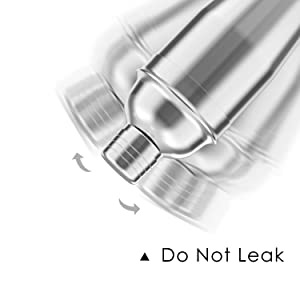 Leakproof
Feel solid in hands, lid does not come off while shaking and does not leak at all! You'll feel like a professional!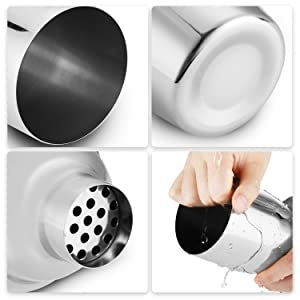 High Quality
All the drink shaker set made from high quality stainless steel that will not to rust or leak and remain on your bar for many years.

Tips of Using the shaker:
1. Add ingredients and ice into the tumbler.
2. Put the strainer on and cap the strainer.
3. Tap the top of the cap with your hand; ensure the strainer and lid are firmly in place.
4. Hold the lid in place with one hand and hold the base of the shaker in place with the other.
5.Shake vigorously for around 10 to 18 seconds, depending upon the size and temperature of the ice.
6.Remove the cap first, then strain drink into the glass.
Note: This is an individual shaker only, not including any separated jigger, strainer, muddler, mixing spoon, Boston shaker, drink glasses, pint glasses.
THANKS FOR COMING TO Barhomevip
WRITE YOUR OWN REVIEW
YOU'RE REVIEWING: 25.3 oz Stainless Steel Drink Shaker Bar Shaker with Built-in Strainer For Bartenders
HOW DO YOU RATE THIS PRODUCT?