1/2 oz & 1 oz Double Jigger Stainless Steel Drink Measuring Cup with Handle
VOLUME:
$ 9.99
Double Jigger: This double jigger allows for multiple measurements levels. Manage varied ingredients with ease while making mixed drinks.

Reduce Mess: This jigger with handled design to prevent spills while measuring. This feature is critical for keeping hands clean compared to regular jiggers.

Essential Bar Tool: This handle jigger measures multiple ingredients quickly and with ease into boston shaker tins, mixing glasses and drink pitchers.

Good Material: This handle jigger is made of SS304 and its cups stand up to heavy use and all manner of liquids and applications.

Elegant Stainless Steel Handle: This special handle jigger matches quality drinks and refined glassware including old fashioned glasses, highball glasses, martini glasses and more.
Why Do You Need A Double Jigger Drink Measuring Cup With Handle At Home?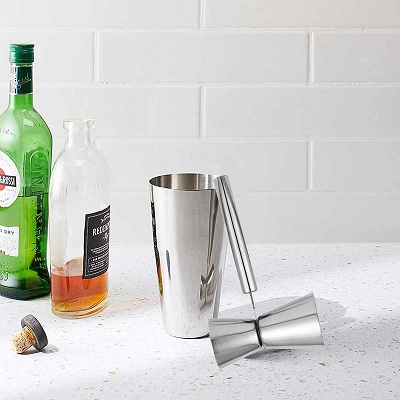 Features of this handle double jigger measuring cup:
1. Premium SS304 Material: Our Measuring Jigger is made of (304) rust-free stainless steel for premium construction and unbeatable strength, sturdy, lasts for years of using.
2. Less Waste: You can be the fastest bartender in the world, but that doesn't matter if you aren't accurate. Use this drink measuring jigger to be both fast and accurate. It helps reduce liquor waste and results in more balanced drinks.
3. Easy Home Bar Tool: If you want to make a drink at home, our Jigger for Bartending is what you really need. Our Measuring Jigger can help you make a beautiful drink very well. You can enjoy delicious drinks with your family or friends.
4. Suitable Handle Design: The handle of this double measuring jigger is easy for bartenders to pour drinks into your cups without sprinkling.

Whether you are an at-home mixologist or an amateur wine connoisseur, Barhomevip provides exceptional tools to inspire you to celebrate the moments. Barhomevip is continually evolving and takes pride in delivering quality and value at an everyday price point.
THANKS FOR COMING TO Barhomevip
WRITE YOUR OWN REVIEW
YOU'RE REVIEWING: 1/2 oz & 1 oz Double Jigger Stainless Steel Drink Measuring Cup with Handle
HOW DO YOU RATE THIS PRODUCT?