Premium Stainless Steel Jigger Bar Drink Measuring Cup Bar Tool (5/6 oz, 7/6 oz, 5/3 oz)
VOLUME:
$ 9.99
Three Choices For Bartender: There are three sizes of measuring cups for you to choose from (5/6 oz, 7/6 oz, 5/3 oz), which can meet the basic bartending needs. Customized for a career bartender, this drink measuring jigger has everything a bar needs to measure & create perfect drinks.

High Quality: Made of high quality 304 stainless steel, with wire drawing treatment, with anti‑rust performance. High temperature resistance, good toughness.

Easy to Wash: You can wash our Bar Jigger by hand. You can also wash our Measuring Jigger in the dishwasher. These Liquor Measuring Jigger is easily washed.

Widely Use: Provide a quick and simple method to measure beverage ingredients, suitable for measuring mixed wines. Perfect bar utensils, simple and generous appearance, suitable for homes, bars, coffee shops, etc.
The Premium Measuring Jigger Bar Tool For Bartender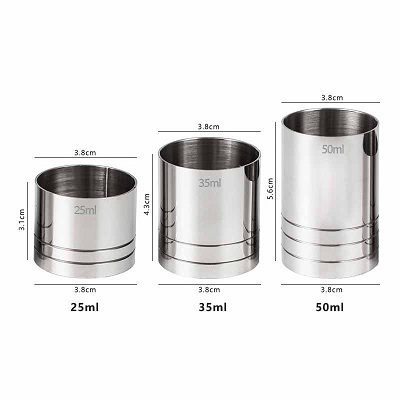 Features of this premium stainless steel measuring jigger cup:
1. Premium Stainless Steel Material: Our Measuring Jigger is made of (304) rust-free stainless steel for premium construction and unbeatable strength, sturdy, lasts for years of using and easy to handle.
2. Less Waste: You can be the fastest bartender in the world, but that doesn't matter if you aren't accurate. Use this drink measuring jigger to be both fast and accurate. It helps reduce liquor waste and results in more balanced drinks.
3. Must-haves for Home Bar: If you want to make a drink at home, our Jigger for Bartending is what you really need. Our Measuring Jigger can help you make a beautiful drink very well. You can enjoy delicious drinks with your family or friends.

Our products, which were created specifically for bartenders and mixologists, finding their way into home bars. We couldn't be happier to provide the same beautiful and professional bar tools to everyone who loves drinks! We hope you enjoy making drinks with our bar tools as much as we've loved crafting them. Whether you're working behind the busiest bar or making drinks at home, our barware is guaranteed to last!
THANKS FOR COMING TO Barhomevip
WRITE YOUR OWN REVIEW
YOU'RE REVIEWING: Premium Stainless Steel Jigger Bar Drink Measuring Cup Bar Tool (5/6 oz, 7/6 oz, 5/3 oz)
HOW DO YOU RATE THIS PRODUCT?