2/3 oz & 4/3 oz Bell Jigger Drink Measuring Jigger Stainless Steel Measuring Tool For Bartenders
VOLUME:
$ 5.90
Sleek Modern Design: Customized for a career bartender, this bell-style measuring jigger has everything a bar needs to measure & create perfect drinks. This bar jigger has an ergonomic design for comfort and will instantly raise your street cred the second you touch it.

Built to Last: We've spared no expense in making a drink measuring cup that will last a lifetime! Our bartender jigger is made from stainless steel 304 with a polished stainless steel finish. Heavy duty and guaranteed to NEVER rust, break, or bend.

Pour with Confidence: The perfect tool for beginners and pros alike! Our drink bell jigger is precision-engraved with every measurement line you'll need to make tasty drinks.

Less Waste: You can be the fastest bartender in the world, but that doesn't matter if you aren't accurate. Use this drink measuring jigger to be both fast and accurate. The straight edge lip helps reduce liquor waste and results in more balanced drinks.

The Bell Style Jigger: The bell jigger design is more comfortable to hold between your fingers than its Japanese counterpart. It glides through your fingers without friction and has a wider mouth to prevent spillage when you're in the weeds!
Barhomevip offers 2/3 oz & 4/3 oz Bell Jigger Drink Measuring Jigger for bartenders at home or bar.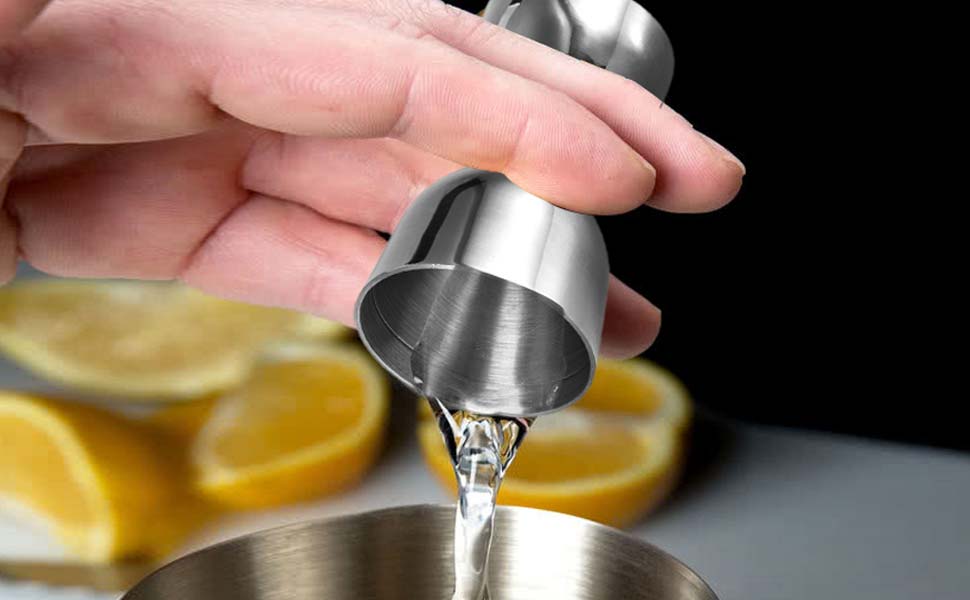 Features of The Bell Style Double Jigger for Bartenders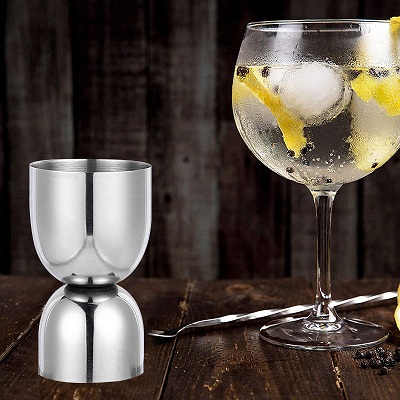 1. Double-sided design offers more measurements in just one tool. Crafted from stainless steel, not easy to get rust and durable enough, this bell jigger is designed to last, even in high-volume commercial bars, polished steel has no extra finish or color to chip or flake off, making it completely dishwasher safe, quality construction won't bend or break.

2. This so called bell jigger, because it really sounds sweet when you flip your finger against this with heavy, seamless molded jigger made from thick walled stainless steel.

3. The double measuring cup with bell inspired design provides efficiency and accuracy when dispensing spirits and alcohol for drink bars and clubs.

4. The special feature of this bell shape is that you can balance it perfectly stable and elegant between two fingers and pour in liquid easily because it has a wide opening. This dual jigger will make your drink mixing much more consistent and exact!
THANKS FOR COMING TO Barhomevip
WRITE YOUR OWN REVIEW
YOU'RE REVIEWING: 2/3 oz & 4/3 oz Bell Jigger Drink Measuring Jigger Stainless Steel Measuring Tool For Bartenders
HOW DO YOU RATE THIS PRODUCT?