Lishi SC1 SC4 KW1 KW5 Pick and Decoder Tools Set, Auto Locksmith Tool

1 reviews
$ 209.99
Lishi Pick and Decoder Tools Set comes with 4 residential tools from Lishi Brand.
Features: Revolutionary Design, Anti-glare, Premium Grade.

This set includes the following tools:

Lishi KW1 2-in-1 Pick and Decoder for 5-Pin Kwikset Keyway
Lishi KW5 2-in-1 Pick and Decoder for 6-Pin Kwikset Keyway
Lishi SC1 2-in-1 Pick and Decoder for 5-Pin Schlage Keyway
Lishi SC4 2-in-1 Pick and Decoder for 6-Pin Schlage Keyway
Lishi SC1 SC4 KW1 KW5 Pick and Decoder Tools Set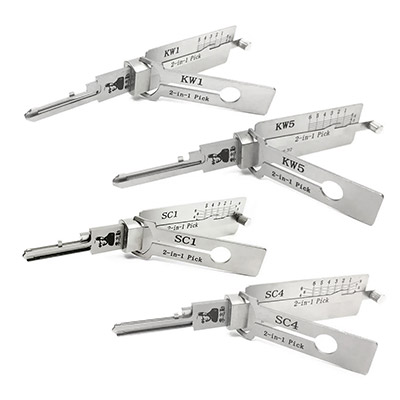 If you are beginners or locksmiths who want to pick different kinds of locks, it is a good choice to buy Lishi Pick and Decoder Tools Set which are available for various locks .

This Lishi Pick and Decoder Tools Set includes foour different kinds of tools:
Lishi KW1 2-in-1 Pick and Decoder for 5-Pin Kwikset Keyway
Lishi KW5 2-in-1 Pick and Decoder for 6-Pin Kwikset Keyway
Lishi SC1 2-in-1 Pick and Decoder for 5-Pin Schlage Keyway
Lishi SC4 2-in-1 Pick and Decoder for 6-Pin Schlage Keyway

THANKS FOR COMING TO Barhomevip
WRITE YOUR OWN REVIEW
YOU'RE REVIEWING: Lishi SC1 SC4 KW1 KW5 Pick and Decoder Tools Set, Auto Locksmith Tool
HOW DO YOU RATE THIS PRODUCT?
---
Frankie

20 Sep 2022

A good Lishi Pick and Decoder Set

I think 4 different types of Lishi pick and decoder tool in one set is cheaper than buying them one by one. I hope that I can be familiar with these tool quickly and learn to pick different kinds of locks.
You May Also Like Lishi TOY43AT 2 in 1 Pick and Decoder Tool, Locksmith Tool for Toyota

1 Review(s) Lishi MIT8 (GM15) 2-in-1 Pick and Decoder Tool, Locksmith Auto Lockpick Tool

3 Review(s) Lishi MAZ24 2-in-1 Pick and Decoder Tool, Locksmith Auto Tool for Mazda

1 Review(s)