Lishi SC1 SC4 KW1 KW5 Pick and Decoder Tools Set, Auto Locksmith Tool

13 reviews
$ 179.99
Lishi SC1 SC4 KW1 KW5 Pick and Decoder Tools Set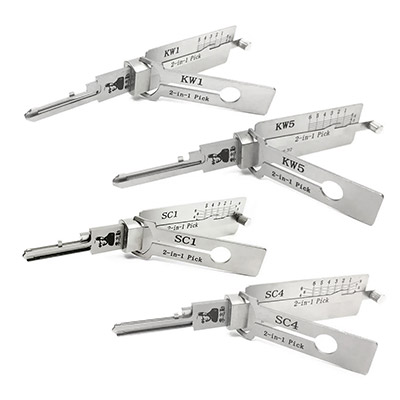 THANKS FOR COMING TO Barhomevip
WRITE YOUR OWN REVIEW
YOU'RE REVIEWING: Lishi SC1 SC4 KW1 KW5 Pick and Decoder Tools Set, Auto Locksmith Tool
HOW DO YOU RATE THIS PRODUCT?
---
Faye Benee

10 Aug 2023

good product

I was skeptical about the Lishi tool set at first, but it has exceeded my expectations. The precision of these tools is remarkable, and they've saved me a lot of time and effort on the job.

Kana

19 Jul 2023

useful lishi tools

The Lishi Tools Set has become my go-to choice for automotive locksmith work. The tools are well-built, and the decoder feature is a game-changer. Highly recommended for professionals.

Matthew Pollex

14 Jun 2023

good lishi tools

I appreciate the ergonomic design of the Lishi lock pick set. The handles are comfortable to hold, and the tools have a good grip, allowing for precise control.

Doug Deep

19 May 2023

useful lock picks

The Lishi lock pick set is perfect for beginners. The tools are user-friendly, and the accompanying guide provides helpful instructions to get started.

dave baxter

13 Apr 2023

nice lishi tools

I'm impressed by the versatility of the Lishi lock pick set. It includes picks for various lock mechanisms, making it suitable for a wide range of lock types.

Ann Marie

18 Mar 2023

good lishi tools to use

The Lishi lock pick set has become an essential part of my locksmith toolkit. The tools are durable, versatile, and provide consistent results. Highly recommended!

rebecca

04 Mar 2023

good product

This lishi tools set is a really good locksmith set for me , a professional locksmith. I am looking for good pick tools. This set is a good one for me.

Linda Denner

12 Feb 2023

good value

Cheap price for me to get these lishi tools in the whole set. I like collecting lishi brand tools. They are useful tools in lockpicking.

S. Balthazard

03 Jan 2023

value for money

I have heard from the lishi brand tools. They are well-made and widely-used in lockpicking. So, I bought this lishi set.

Ellie Marsh

02 Dec 2022

good product

This lishi tools set contains my demanded tools. I need them to fix the home door lock problems. They are helpful tools for me.
You May Also Like Lishi 2-in-1 Carry Bag, Locksmith Tools Storage Bag

6 Review(s)