Portable Smoking Infuser Wood Smoke Infuser Kit with Wood Chips for Food Meat Drink
VOLUME:
Black
Silver
$ 36.99
Complete Smoking Infuser Kit: This Smoking Infuser Kit includes 1 Smoking Infuser, 1 Flexible Hose, 1 Cleaning Brush, 2 Filter grid, 1 Small Screwdriver, 1 User Manual, 1 Bag of Wood Chips. Flexible hose and specially designed nozzle make this Smoking Infuser a versatile all-purpose Food Smoker.

Smoking Infuser: Portable smoker Infuser using real wood chips, tea, herbs, spices, hay and dried flowers, smoking Infuser can produce cold smoke for food or drink without changing texture and temperature. Simply natural and authentic smoked foods and cocktail drinks and away from artificial flavors and chemicals. (A free sample of wood chips is included in the package.)

Simple and Efficient: Our smoke infuser easy to assemble, disassemble and transport. After assembling the main body, just put 2 AA batteries (not included) and press the button to start using. Smoking Infuser is suitable for your home kitchen, bar, restaurant or outdoor use as barbecue, picnic, hiking, fishing, etc.

Smoke Quickly and Easily: Our smoking Infuser just need to add a pinch of your choice of wood chips, light with a match, smoking Infuser only takes in seconds to add smoke flavor and an aromatic finish to food or drink smoker.
Do you want to have a little device for quickly smoking your meat ,fish or drinks?
Traditional smokers are expensive and take up a lot of space. Our portable cocktail food smoker can give you the same effect at a fraction of the cost and time. It delivers precision smoke house style effects, helps infuse smoky flavors into your food without the extra heat.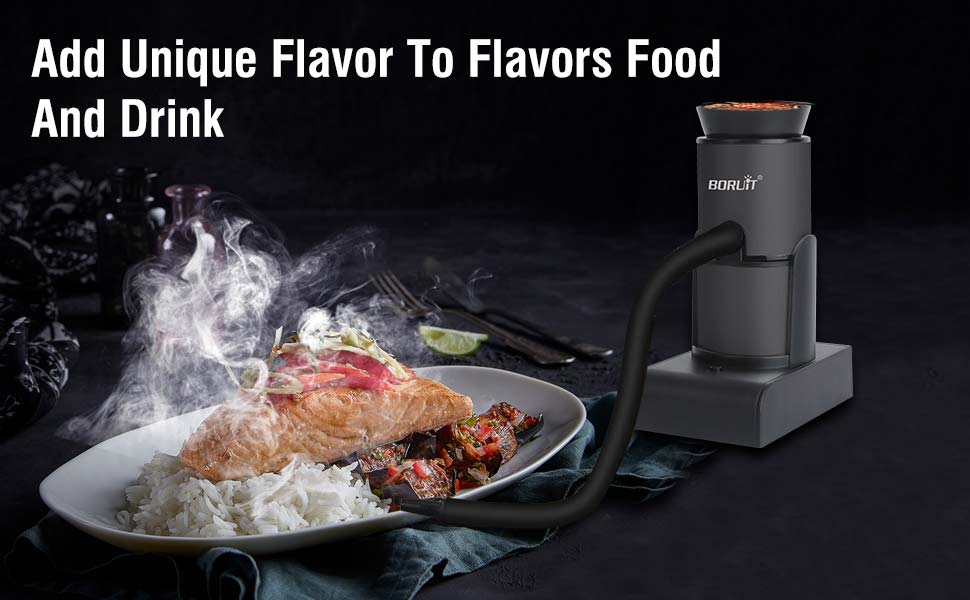 Why Choose Barhomevip Smoking Infuser?
Welcome to join the smoker favor club and share your smoker food & drinks with us!
1: Our portable smoking Infuser is a beautiful perfect alternatives tools for BBQ Stoves and other big or heavy smoking tools, lightweight & convenient!
2: Adding smoky flavor and aroma to your food or drinks easily, quickly, away from strong fire burning and smokey, much natural and healthier!
3: Keeping you house and kitchen away from high temperature and smoker all around, much cleaner!
4: You can enjoy the smoky flavor at any time and anywhere you like, indoor or outdoor both possible.
This smoking Infuser is the perfect companion to both your creativity and presentation skills in the kitchen or home bar. Infuse your food with classic aromas like hickory or applewood or with creative flavors like teas, spices or dried flowers Or how about an Applewood smoked Bloody Mary?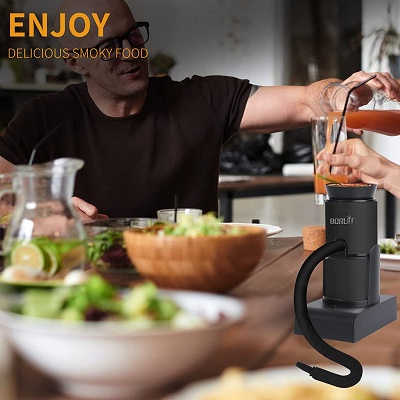 How to Use the Smoking Infuser at Home or Bar?

Enjoy Food with Smoking Flavor

THANKS FOR COMING TO Barhomevip
WRITE YOUR OWN REVIEW
YOU'RE REVIEWING: Portable Smoking Infuser Wood Smoke Infuser Kit with Wood Chips for Food Meat Drink
HOW DO YOU RATE THIS PRODUCT?