Smoking Infuser Cup Lid for Drink, Smoke Infuser Cup Cover Accessory
VOLUME:
$ 12.99
Universal Size: The size of the handy cup lid is: 4.7 inched/12 cm in diameter and 0.12 inch /0.3 cm in thickness. Universal size makes our cold smoker cup lid suitable for most cups, glasses, plates, dishes, and bowls diameter within 4.7". Thank to the portable size, which can help you enjoy smoking drink anywhere.

Quality Material: The cocktail drinks cover is made up of food grade crystal acrylic material, rubber port and rubber bottom seal, which is safe, durable and easy to use. The bottom seal is easy to remove ,so that it's very easy to clean and helps you keep your cover clean.

Widely Used: Smoking Infuser cup covers is an important accessory for making smoky drinks, helping you easily to make the making smoking wine, cocktails and whiskey. It can also infuse natural cool smoke to your soups, sauces, ice cream and cheese.It also can be used for common cup lid or an beautiful home & bar tools.

Enjoy Smoke: The smoke infuser lid is designed with a rubber hole, so it can works with most of smoking Infuser or similar smoke infuser. You can use your smoke generator machine to infuse smoke into the cup and DIY your own flavor cocktail drinks, perfectly keeping smoke inside the glass.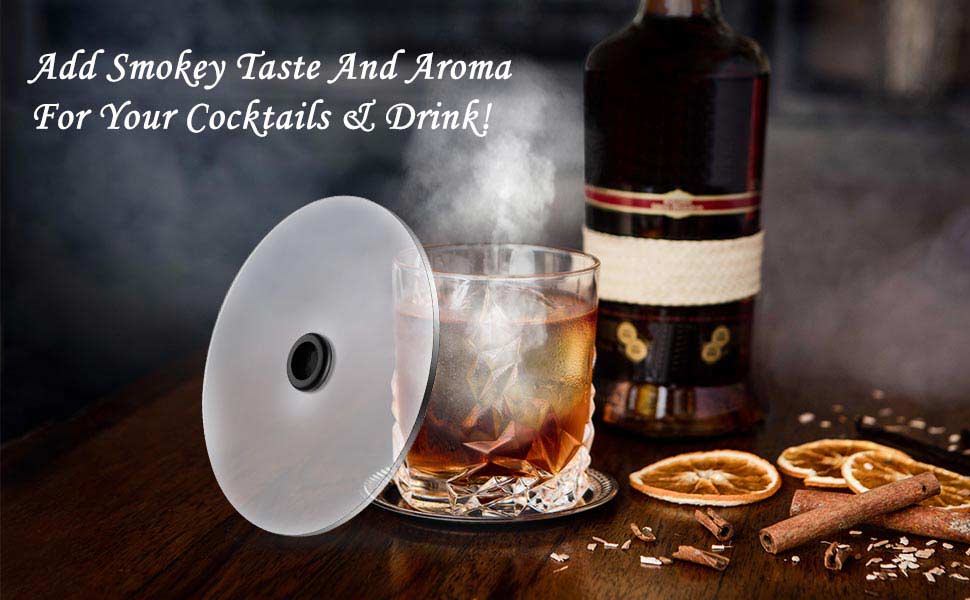 Liquor smoking method, you can get a very strong smell of smoke experience, but also can integrate more substances into the liquor. With this lid, you can smoke anywhere you like, leaving the whole glass and surface with the flavor of smoky materials, making it easier to serve your guests or yourself.
You can then lift the smoke lid in front of the guest, which will create a smoky feeling. Or put the smoky lid in front of the guests, guests can open the lid on their own, pick up their own cocktail, this feeling will be more wonderful!
4.7" Diameter Fits Most of Glasses&Cups
The 4.7" handheld smoker lid fits for small, medium cups, glasses and more! Help you add the right amount of tasty smoke flavor without getting smoke all over the kitchen!

How to Use the Smoking Cup Lid at Home

THANKS FOR COMING TO Barhomevip
WRITE YOUR OWN REVIEW
YOU'RE REVIEWING: Smoking Infuser Cup Lid for Drink, Smoke Infuser Cup Cover Accessory
HOW DO YOU RATE THIS PRODUCT?