Portable Handheld Cold Smoking Infuser, Smoke Infuser Kit includes Wood Chips and Dome Lid
$ 87.99
Complete Smoking Infuser Set: This Smoking Infuser Set includes 1 Smoking Infuser, 1 Flexible Hose, 1 Cleaning Brush, 3 Filter grid, 1 Small Screwdriver, 1 Tweezers 1 User Manual, 1 Bag of Wood Chips. Flexible hose and specially designed nozzle make this Smoking Infuser a versatile all-purpose Food Smoker.

Professional Smoking Infuser: Infuse cold smoke all soaked into the food/drinks, bring natural wood smoke flavor and aroma, enhance the taste of food/drinks, experience different flavors and increase enjoyment of life.

Unique Design: Light weight and compact size, convenient to carry outdoor, and most parts can be disassemble to wash. The 12 inch cover is standard circular arch and hole design, cover most of the size of home dishes cups glasses or bowls which diameter within 24 cm/9.45 inch, and height below 12 cm/4.72 inch.

Satisfying Gift: Basic accessories include a 12 inch dome as an starter kit, the smoker machine is made of ABS and aluminum, durable material and easy using, very suitable as a gift.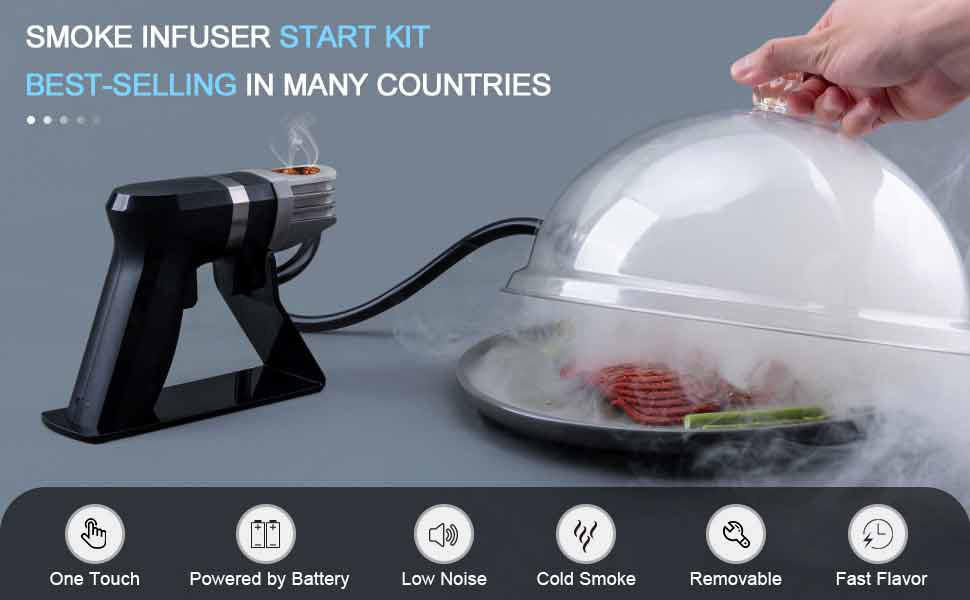 Why Choose Barhomevip Handheld Smoking Infuser?
The Smoking Infuser produces cold smoke, which allows it to be used for any kind of food or liquid. As a flexible hand-held device, it is easy to use for infusion or finishing with a variety of smoky flavors and aromas.
Your selection of combustibles including various wood chips, teas, herbs, spices, hay, and even dried flowers is limited only by your imagination.
Our smoke infuser features a large robust burn chamber designed specifically to withstand commercial use.
The one-piece, removable anodized aluminum smoking chamber and a heavy-duty metal blower fan-will not melt when heated.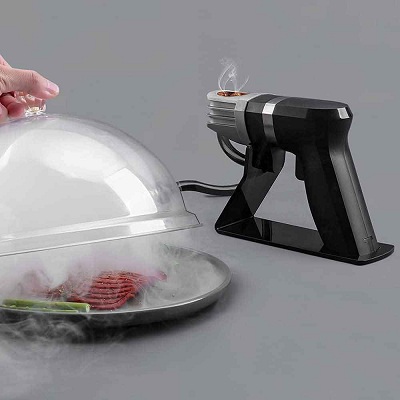 Barhomevip smoking Infuser details you need to know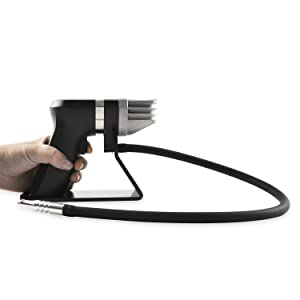 Ergonomic Design Fits Hand Perfectly
Powered by 4 AA batteries (not included with your order) making it suitable for indoor use in your home kitchen, bar, restaurant, or for outdoor use like BBQ, picnic, hiking, fishing etc.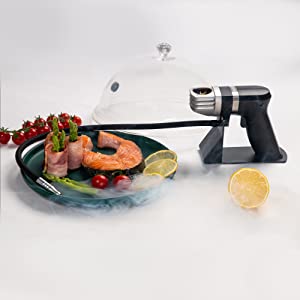 Professional Cold Smoke Infuser
Now you can add another layer of flavor and impress your friends and family with your smoke injector. It will inject a subtle layer of cool, natural smoke without cooking the food or changing the texture.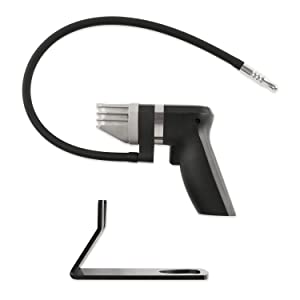 Easy to Use
Detachable aluminum smoke chamber, easy to clean. Heavy-duty, heat resistant metal fan to spread the smoke. Efficient, low-noise motor. One-button easy operation. Separate stand for you comfort

THANKS FOR COMING TO Barhomevip
WRITE YOUR OWN REVIEW
YOU'RE REVIEWING: Portable Handheld Cold Smoking Infuser, Smoke Infuser Kit includes Wood Chips and Dome Lid
HOW DO YOU RATE THIS PRODUCT?