Smoker Infuser Kit for Drink, Old Fashioned Smoker Kit with Wood Chips
$ 39.99
Cocktail Smoker Kit: This cocktail smoker kit includes 1 Cocktail Smoker Top, 1 Mesh Filter, 2 Boxes of Mixed Wood Chips. Cocktail Kit will bring you a brand new food experience.

Novelty Design: This product allows you to realize your desire to make smoky cocktails at home. Just burn a few pieces of wood chips at a time to add a different flavor to your wine. The old-fashioned smoker makes you feel the joy of bartending while showing your style.

Easy to Carry: It's small, lightweight and can be packed in any backpack, so you can use it anytime, anywhere. Serve your customers a delicious smoky cocktail at the bar. Enjoy the fun of making cocktails by yourself at home. Make smoked whisky for your family and friends at a party and enjoy their thanks and thumbs up. Or, while camping, enjoy your smoky food while admiring the nature.

Easy to Use: You just need to put the wood chips into the smoker, ignite it with a torch, close the lid after a few seconds, wait for a while and enjoy your smoked whisky. You can choose the amount of smoke according to your taste, the amount of smoke depends on how much wood chips you put in and how long the lighter is lit.
Never really thought smoking would change the flavor of a drink and it does, Adds some love and pizzazz to your specialty cocktails!
Why Do You Need Old Fashioned Drink Smoker?
1. This cocktail smoker will bring you a different experience for your mixology bartender, and your cocktails. Burning with any culinary/kitchen torch, this drink smoker infuser kit allows you to fully encase your cocktail in a smokey.
2. This drink smoker kit is 100% made of natural oak wood and the smoking wood chips are made of natural fruitwood, it can be burned 100%. You can try it boldly and adjust the smoke-flavored whiskey.
3. This portable whiskey infusion kit can work perfectly with any cocktails, whiskey, or bourbon. It can result in smokey cocktails in only a few seconds.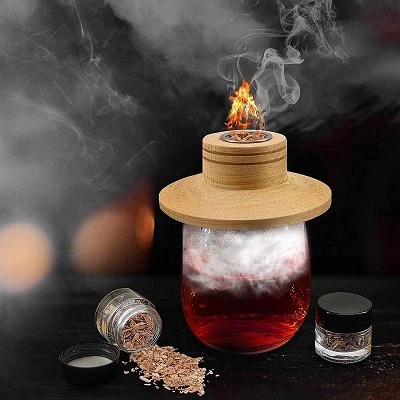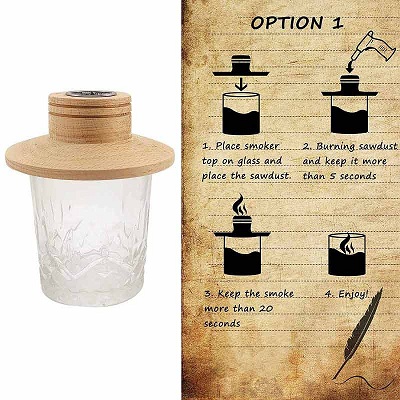 Ways to Use the Smoker Top at Home or Bar
1. Place smoker top on glass and place your favorite flavor of wood chips.
2. Start burning wood chips more than 5 seconds for full burn.
3. Keep the smoke more than 20 seconds.
4. Enjoy your drink with unique smoke flavor.
Please note: Since the material of the smoked top is wood, the top extension will turn black when it is burned. This is a normal phenomenon and it is inevitable!
Cleaning method
: please pay attention! Cannot use the dishwasher! Please clean the combustion chamber separately after each use, wipe the inside with a wet paper towel, and let it dry naturally.
THANKS FOR COMING TO Barhomevip
WRITE YOUR OWN REVIEW
YOU'RE REVIEWING: Smoker Infuser Kit for Drink, Old Fashioned Smoker Kit with Wood Chips
HOW DO YOU RATE THIS PRODUCT?