Professional Muddler For Bartender Stainless Steel Drink Muddler Bar Tools
$ 9.90
Non-Scratch Nylon Head: This grooved muddler with generous nylon head won't damage glass. Besides, it is very durable and does not crack or leave residue like the wooden muddlers do

High Quality Stainless Steel: This premium muddler is made of the strongest material which is food grade 304 stainless steel. It's durable and will not rust.

Easy To Clean: Once finished using the drink muddler, it's easy to clean it by hand or just placing it inside the dishwasher since this muddler is dishwasher safe.

Bartending Fun: You can crush strawberries, lemons, mints, vanillas, ices to produce perfect mojitos or other drinks.

Indispensable Bartender Kit: Using this drink muddler is a great way to create a delicious drink. This 8" muddler for bar set is the most basic and essential for a professional bartender or a homemade fan.
Do you want to make a special drink for yourself? When you see beautiful drinks made by others, do you want to try them too?
Fortunately, we provide a muddler for making drinks, you can easily make any mojito, drink, old-fashioned, juice you want.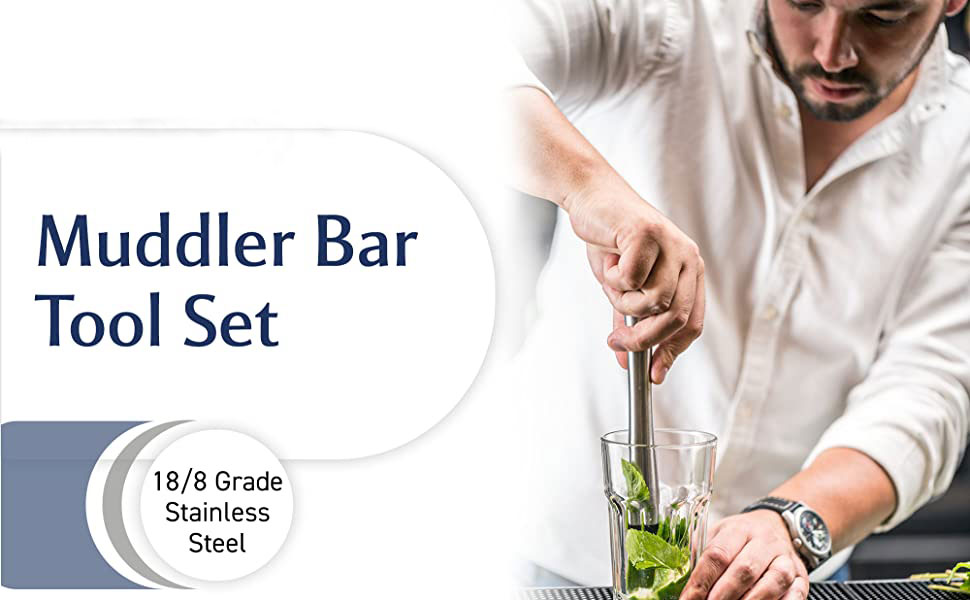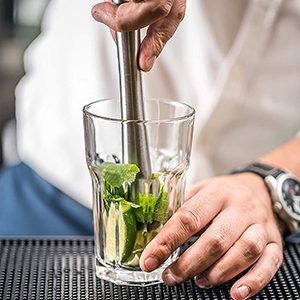 Squeeze out flavor
Crafting the perfect drink is easy with a muddler. It's perfect for extracting every last bit of flavor from your favorite herbs or fruits, and can crush ice like a pro too. But the nylon head makes sure your most delicate glasses stay scratch free.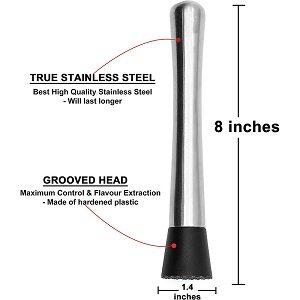 Using is as a pestle
Its minimalistic design features stainless steel handle that feels substantial in your hands and allows you to crush ice easily. Its decent length can reach the bottom of your large tins and shakers. Have a strong grip and avoid slippage with its smoothly finished and rounded handle.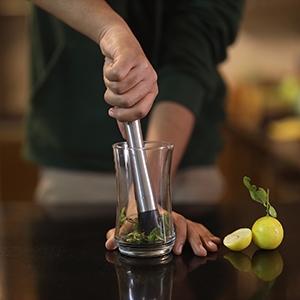 Great gift for drink lovers
Craving for flavor buster drinks? Create your own with our premium quality mojito muddler. Ergonomically designed with a non-scratch grooved nylon head that does not over muddle and ideal to mash citrus, fruits, and spices. Durable craftsmanship, non-corrosive, rust-resistant, and easy to use.

THANKS FOR COMING TO Barhomevip
WRITE YOUR OWN REVIEW
YOU'RE REVIEWING: Professional Muddler For Bartender Stainless Steel Drink Muddler Bar Tools
HOW DO YOU RATE THIS PRODUCT?