Stainless Steel Fruit Muddler Bar Tools for Making Mixing Fruit Drinks
$ 10.99
Good muddler: Made of high quality food safe 304 stainless steel, our bar muddler is highly durable and corrosion resistant, will not rust or peel. Also, it will not leave residue and is dishwasher safe, which makes it your most reliable choice.

Must-have bar tool: This muddler is one of the must have bar accessories built for both professional and home use. It can squeeze out the flavours you need and produce tasty drinks that are sure to leave an impression.

Protective nylon head: Artfully crafted, these grooved muddlers grind fruit, mint, spices and even crack ice! The nylon head gives a powerful crushing force with a non-destructive impact, making sure your glass will not break nor scratch.

Easy to use and clean: Designed in a curved manner, this drink muddler will fit right into your palm giving a firm grip. This way you can crush more with less force applied. When in need of cleaning, rinse thoroughly or pop it in the dishwasher.

Keep up the spirits: Crush any fruit you want, experiment with peaches, pears, pineapples, cherries, strawberries, mint, herbs and create magic.
Imbibe delight through every sip of your drink with Barhomevip durable Muddler. Dishwasher safe and ideal for high volume operations. Its superior quality increases longevity and makes it a constant companion in your beverage endeavors. Don't wait! Grab your best Muddler today to enjoy fun-filled drink parties with your loved ones.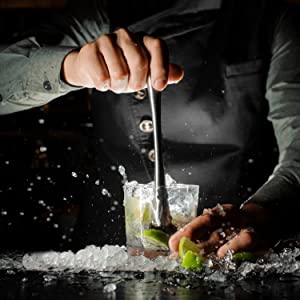 It is ideal for mashing fruits, herb, and spices to perfectly blend the flavor into your drink. Great for mixed or layered drinks and will become an essential part of your home bar.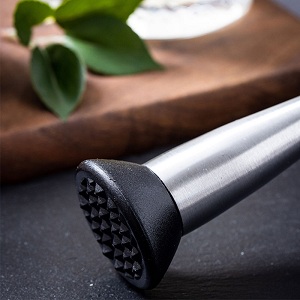 This grooved nylon head gives a strong crushing but will not have destructive force.So you don't have to worry breaking or scratching your glass.It can crush or smash any fruit,mint leaves,herbs and even crack hard ice.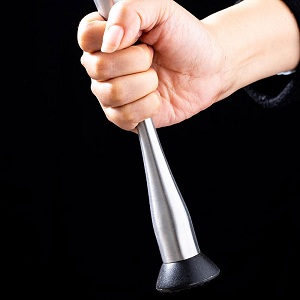 This drink muddler has a curved design that fits directly into the palm of your hand for a firm grip. This way you can crush more with less force applied.
THANKS FOR COMING TO Barhomevip
WRITE YOUR OWN REVIEW
YOU'RE REVIEWING: Stainless Steel Fruit Muddler Bar Tools for Making Mixing Fruit Drinks
HOW DO YOU RATE THIS PRODUCT?