Stylish Wooden Muddler For Bartender Durable Wood Ice Crusher Bar Tool
$ 9.99
Versatile Bar & Kitchen Tool: Wooden Muddler is an important bar tool to have on hand if you make a lot of mixed drinks or work as a bartender. The purpose of muddling is to bring out the flavors of certain herbs before adding the liquid part of the drink. It is perfect not only for making cold summer drinks, you can also use it as a pestle with mortar for cooking to get the full flavors and fragrances of crushed herbs and spices. Must-have tool for every household!

Premium Wood Material: Wooden Muddler is made from a top-quality hardwood in order to provide a better performance, strength, and, of course, durability. Natural wood has unique features and was used thousands of years as an excellent, food-safe material for various kitchen tools. Our wooden muddler is handy and convenient to use, it also adds a touch of quaint rustic flair to any decor. Muddler Wood will look beautiful on your counter.

Easy To Use: perfectly designed Muddler for drinks is giving you excellent performance, including the ability to easily crush ice, along with citrus fruits, berries, herbs, and other items that form part of your drinks. Perfect shape and form for easy and comfortable handling. It is long enough to effectively reach the bottom of most drink mixers and thick enough to ensure fruit, ice, and herbs can be crushed. Hand washing is recommended. Not suitable for dishwashers!

Great Gift Idea: for stag night, weddings, housewarming, retirement, birthdays, and Christmas gifts for all who like bar accessories or wooden kitchenware. Personalised Drink Muddler could be a great timeless, functional gift for your family and friends.
Why Do You Need to Buy Wooden Muddler Bar Tool?
Ideal Bartender Tool: Essentially the muddler is nothing more than a bartender's pestle and they are very easy to use. But once you begin to use Wooden Muddler, you will wonder why you didn't have one before.
Best Wood Material: The wood is hard enough to handle your toughest fruits, yet it won't scratch your glassware and the textured end helps break up fruits and herbs to release flavor. While the rounded end makes this easy to hold and to press down as you muddle. MIt's resistant to absorbing liquid and it's made of natural wood, so you can use it with confidence.
Making Drinks Easy: Despite the size, this is lightweight, so it's not tiring to use, while the large rounded end makes it comfortable when you're making multiple pitchers of mojitos or sangria for a crowd. Not all drinks will need the muddler but they are definitely handy to have around if you want to make outstanding mixed drinks at your next dinner party or gathering.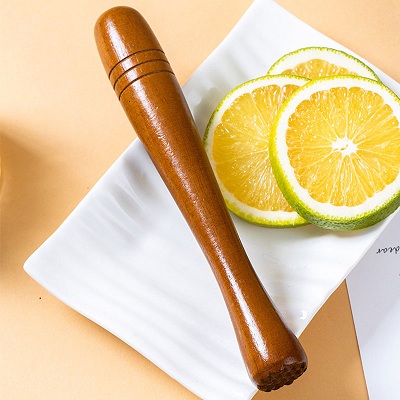 Notes:
Extra Pestle for Cooking
It is not only a great bartenders friend, our customers often use it in a kitchen with durable bowls as a pestle and mortar set and avocado masher.
The design and sturdy material of our Wooden Muddler enables you to effectively pulverize your herbs and spices or other ingredients without having to use a lot of strength.It is very handy to have such a versitale tool in the kitchen.
Easy to maintain
Hand wash only, not suitable for dishwashers! To avoid deformation of the wooden tools, do not leave exposed to heat or sunshine or soak in water for a long time.
THANKS FOR COMING TO Barhomevip
WRITE YOUR OWN REVIEW
YOU'RE REVIEWING: Stylish Wooden Muddler For Bartender Durable Wood Ice Crusher Bar Tool
HOW DO YOU RATE THIS PRODUCT?