Smoker Kit Handheld Smoke Infuser with Wood Chips for Bar Cooking or Drinks
$ 34.99
Complete Silver Smoking Infuser Kit: This Smoking Infuser Kit includes 1 Smoking Gun, 1 Flexible Hose, 1 Cleaning Brush, 2 Filter grid, 1 Small Screwdriver, 1 User Manual, 1 Bag of Wood Chips. Flexible hose and specially designed nozzle make this Smoking Gun a versatile all-purpose Food Smoker.

All Natural Smoker Gun: Our infusion smoking gun can add smokey taste and aroma to your food or drink in a short time. The infusion smoking system uses real wood chips, tea, herbs, spices, hay, and dried flowers, which can produce cold smoke for food or beverages without changing the texture and temperature, and stay away from artificial flavors and chemicals. Enjoy natural and authentic smoked food and drinks without a strong fire burning and smokey.

Convenient & Simple to Use: Our portable smoker guns are easy to assemble, disassemble and carry. After assembling the main body, just need to put in 2*AA batteries (not included) and wood chips and light it, then press the button to start using the smoker gun. A delicious smoky gadget for yourself or smoky lovers, the perfect assistant for chefs or bartenders.

Portable Smoking Gun Set: Our smoking gun set includes all the accessories needed for smoking food. Even so complete, the cooking smoker gun also is very mini, which can be placed directly on the palm of the hand and is very portable. You can carry the smoker gun when you travel, barbecue and camp which only takes up a little space and enables you to start your smoked delicious right away.
This silver smoking gun is a perfect substitute for barbecue grills and other large or heavy smoking tools, dedicated to creating elegant and practical home bar accessories. You may have watched a chef or bartender on TV use a portable smoking gun as a finishing touch and thought about how cool it looks. Now you can add another layer of flavor with this smoking gun.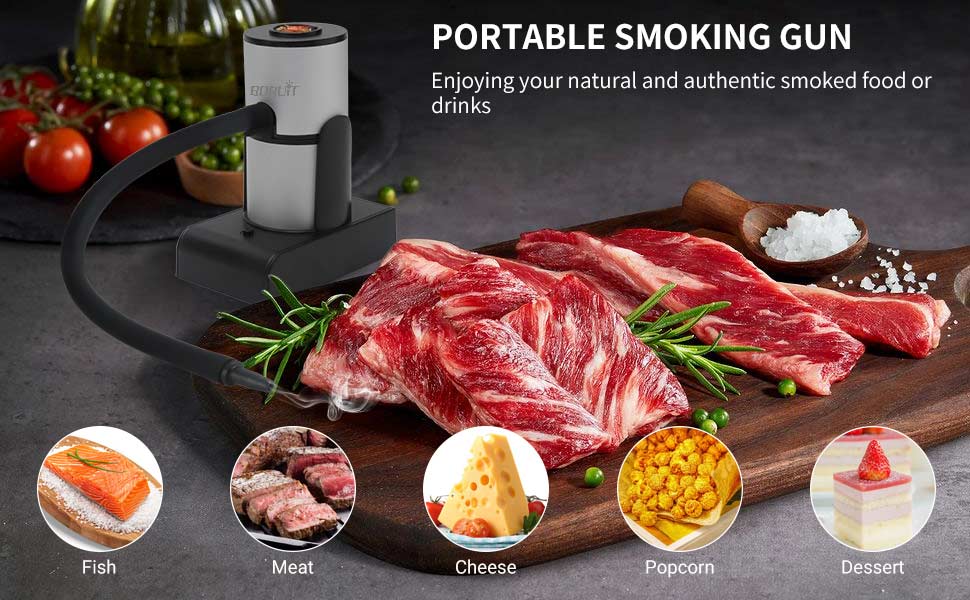 How to Use the Silver Smoking Gun at Home Bar
1. Insert 2*AA batteries in the base of the product.
2. Place the sawdust inside the container. Do not fill it over the physical limit.
3. Insert one end of the hose into the smoke outlet duct and insert the nozzle into the container instead.
4. Press the on/off button and then ignite the sawdust using a gas lighter.
5. Smoke will be generated instantly in your selected container.
6. If you wish to stop smoking, press the on/off button again.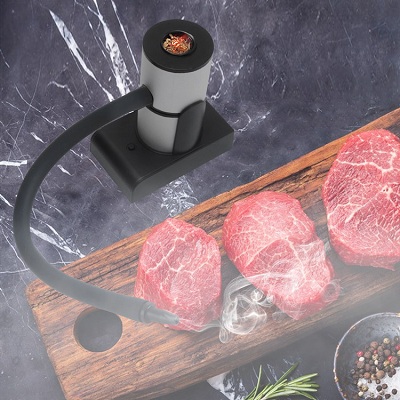 Nice Food or Drink with Smoke Flavor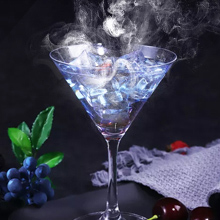 Smoked Drinks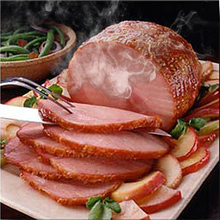 Smoked Meat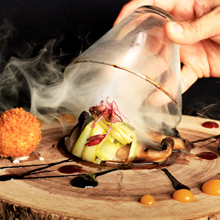 Smoked Nutritious Veggies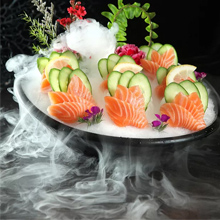 Smoked Salmone
Enjoy Making Smoked Food


THANKS FOR COMING TO Barhomevip
WRITE YOUR OWN REVIEW
YOU'RE REVIEWING: Smoker Kit Handheld Smoke Infuser with Wood Chips for Bar Cooking or Drinks
HOW DO YOU RATE THIS PRODUCT?