Smoking Wood Chunks (Apple), 4 Pounds All Natural BBQ Wood Chunks
$ 29.99
Great Flavor: Apple wood chunks add the natural flavors of apple to create a smoky, sweet, and fruity flavor to your foods.

Versatile: Apple wood works great for grilling poultry, pork, beef, seafood, lamb, and a variety of other foods.

Large Sized Wood Chunks: Wood chunks are sized big to allow for a longer smoking time. Smoking Wood Chunks can be used with smokers or charcoal grills in addition to lump charcoal.

Easy to Use: Place wood chunks on top of your charcoal, in a smoker box, in a covered foil pan with poke holes and placed away from flames or on the side of the grill, or on their own.
Key Features of Smoking Wood Chunks:
1. The compact size of chunk wood is 2-3 inches. It makes it possible to use bbq oak chunks in different smokers and grills.
2. If you are searching for smoking wood with no chemical or pesticides our hardwood chunks is a rational choice!
3. Only whole wood chunks for bbq in the pack, no splinters or chips.
4. A significant amount of chunk wood for smoking for the best quality/value ratio.
5. These are well seasoned and clean smoking oak wood chunks.
6. Cooking wood chunks work well with any type of meat especially with pork, lamb, beef and game meats.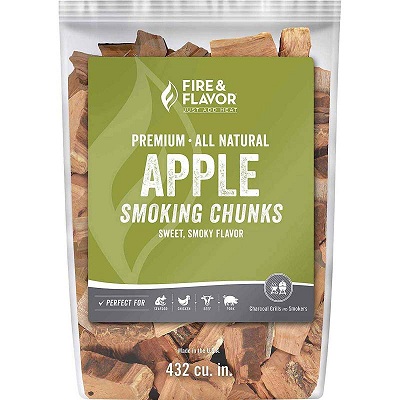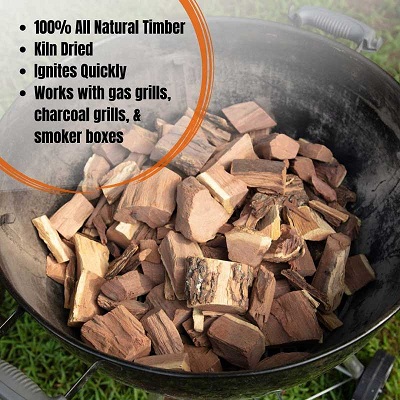 Advantages of Smoking Wood Chunks for BBQ Food:
1. Pack with of Apple wood chunks are great for smoking meat. Apple wood chunk belongs to medium smoking woods, provides a distinct smoked flavor and goes well with meats that can handle strong smokes.
2. 3-7'' apple bbq wood chunks may be used at a time as it is enough to flavour the meat. That is why smoking with apple chunks is cost-effective and beneficial.
3. If you are looking for smoker grill accessories for a person who is fond of smoking food - apple wood chunks will be a really great choice.
4. Natural wood chunks are good for bbq and will not add any bad taste to your meat. Our grilling wood chunks will complement your smoking in the best manner!
THANKS FOR COMING TO Barhomevip
WRITE YOUR OWN REVIEW
YOU'RE REVIEWING: Smoking Wood Chunks (Apple), 4 Pounds All Natural BBQ Wood Chunks
HOW DO YOU RATE THIS PRODUCT?