Smoker Kit for Drink, Old Fashioned Smoker Infuser with Wood Chips
$ 39.99
Complete Cocktail Smoker Kit: This cocktail smoker kit includes 1 Cocktail Smoker, 1 Cleaning Brush, 1 Mesh Filter, 1 Box of Mixed Wood Chips. Cocktail Kit will bring you a brand new food experience.

Easy to Use: With our drink smoker kit, anyone can be a master of mixology! Just add your wood chips of choice to the chamber, light it with a torch, give it a little shake, and let it sit for 30-60 seconds! It's that simple!

Multi-Functional Smoker Kit: This old-fashioned smoker kit is the perfect addition to your home bar! You can smoke anything you'd like, such as meats and cheeses! Now you can create delicious smoky cocktails or dishes that will impress your guests!

Surprise Gift: exquisite design and packaging, old fashioned smoker kit ideal gift for father, husband, bourbon lovers, or anyone who likes handmade smoker cocktails. It is also very suitable for guests to experience. This would be a fun gift for those that enjoy making their own.
Re-define the spirit tasting experience at home.
The Old-Fashioned Smoker Kit brings the most intense aroma of the wood chips into your drink. Get ready to be wowed when the mesmerizing smoke rise up as you open up the lid.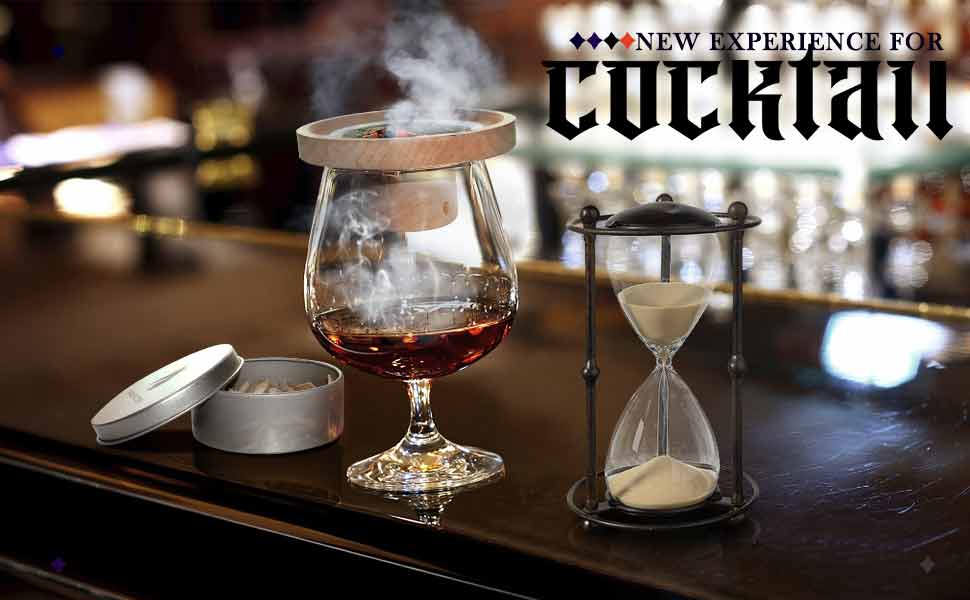 Barhomevip Old-Fashioned Smoker Kit——Perfect Traning Kit for Beginners
1. This smoker infuser kit allows you to DIY your own drink on any occasions, which will create delighting atmosphere and bring you a great mood!
2. Made from selected oak wood, the smoker infuser provides you a fine and smooth touch feeling. And it's chemical-free.
3. Burning Wood Chips will bring you a great new sensory experience!
4. Best gifts for drink lover! It mixes the smell of drink and natural wood, which will completely change the way you experience drinking.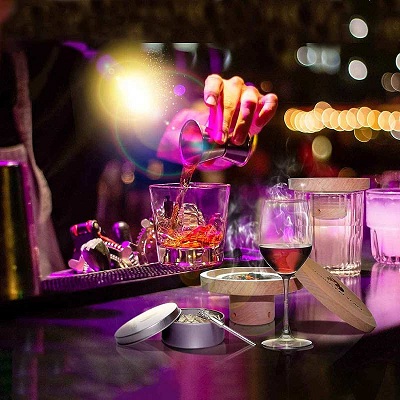 How to Use the Old-Fashioned Smoker Kit at Home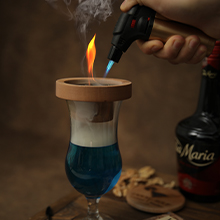 Place the Smoker Kit on the Glass
Pour the drink into the glass and place the cocktail smoker on the glass. Lift the torch and choose the wood chips and put it in the chips burning zone.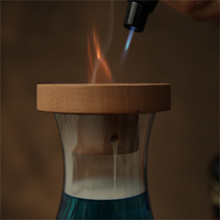 Ignite the Wood Chips
Light the wood chips with any fire gun or lighter. Watch the flavored smoke flow into your cocktail.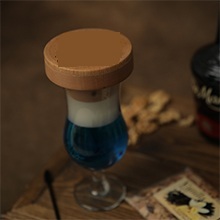 Cover the Smoker Lid
Close the lid and wait for about 30 seconds. Doing this will allow the smoke to penetrate deep into your cocktail and give it a special flavor.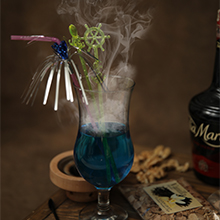 Enjoy Your Smoked Drinks
Lift the Cocktail Smoker out of the glass and ready. You can decorate your cocktail and present it to your friends or loved ones.
With its premium quality, this Barhomevip cocktail smoker kit allows you to use it for a long time. It not only provides you the old-fashioned style, but also gives you a exquisite design and fine quality!
If you are a drink lover, this whiskey smoker infuser kit is perfect for adding different tastes and aromas to your drink! They are incredibly easy and fun to use! Relax yourself at home!
THANKS FOR COMING TO Barhomevip
WRITE YOUR OWN REVIEW
YOU'RE REVIEWING: Smoker Kit for Drink, Old Fashioned Smoker Infuser with Wood Chips
HOW DO YOU RATE THIS PRODUCT?