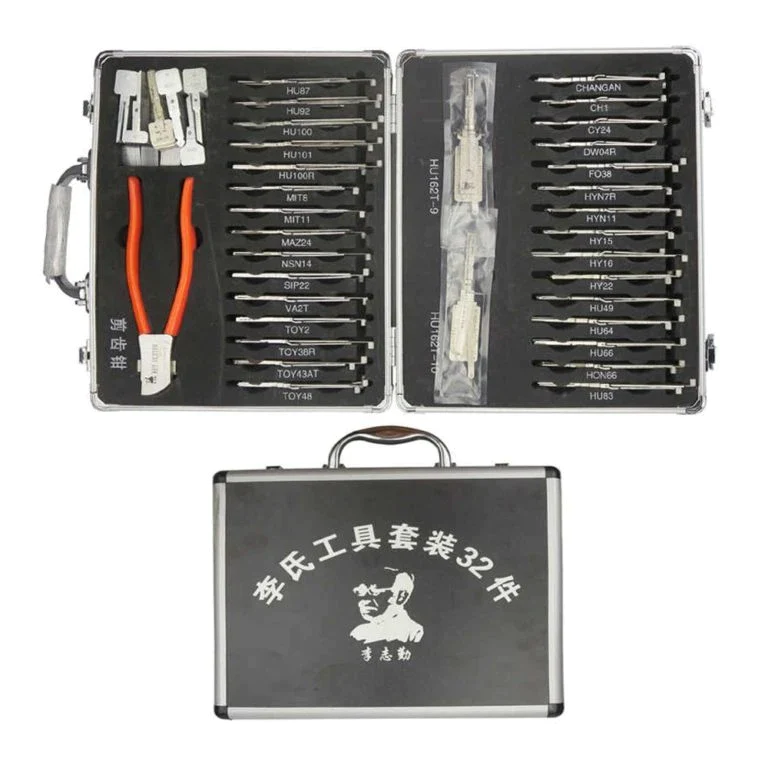 Lishi 32 Pieces Full Set includes:
TOY43AT: for Toyota Series, Camry, Reiz, Corolla.
HU87: for Suzuki series, new Alto, Swift, Tianyu, Jimny, Vitra, etc.
HYN11(Ignition): for Hyundai Series, Elantra, Tucson, Kia Series, Cerato.
HYN7R: for Hyundai series, Kia series, Sonata, Moinca.
HYN14R/ HY15: for Hyundai Series,Sonata, etc. Kia Series, K2, etc.
MIT8: for Mitsubushi Series.
MIT11: for Mitsubishi series, Suzuki Big Dipper, Chrysler, Dodge, Shunfeng, Baojun.
HY16: for Hyundai Series, New Elentra/Celesta, Kia Series, Forte.
NSN14: for Nissan Series, Teana, TIIDA, Livina, Infiniti, Subaru.
MAZ24: for Mazda Series, Haima.
CY24: for Chrysler Series, 300C, Cruiser, Cherokee, Dodge, JEEP Series.
FO38(Ignition): for Ford Series, Edge, F150, Kuga, Lincoln, Mustang.
DWO4R: for Buick Series, Excelle HRV, GL8, etc. Chevrolet Series, Sail, Lova, etc.
MAZDA(2014): for Mazda 2014 onwards [New Mazda Smart Keyway 2014 onwards (2 track internal)
HU64(Ignition): for Mercedes, Chrysler, Maybach, Lorinser, Carlson.
HU66(Ignition): for Bugatti, Lamborghini, Porsche, Bentley, Volkswagen, Audi, Skoda, SEAT.
HU83: for Peugeot old 307, new 508.
HU92(Ignition): for BMW, Land Rover, MINI, MorrisGarages GM3, 7, HUF, Rolls Royce.
HU100(Ignition): for Cadillac, Opel, Vydat, New GL8, New Regal, Cruze, Buick.
HU101(Ignition): for Ford, Jaguar, Land Rover, Freelander, Volvo, New Mondeo Win, Max, Sic Bo.
HU100R(Ignition): for New BMW, Rolls Royce.
HY22(Ignition): for Hyundai, Kia, Lingxiang, Lion Run, Zhirun, Rena, Langdong, K5, Sorento, Furui.
HON66(Ignition): for Honda, Akula, Idea, GAC Chuanqi, BYD F6, Great Wall.
TOY2T(Ignition): for Toyota SUV off-road, new Reiz, BYD inner milling.
TOY48(Ignition): for Lexus, Toyota, New Subaru, Crown.
VA2T(Ignition): for Peugeot, Citroen.
K5: for 2016 – 2018 KIA Optima, 2018 KIA Rio, 2017-2018 KIA Niro
TOYOTA 2018: for TOYOTA 2018 Keyway
HU162T-9: for New Volkswagen, 2016 New Skoda, 9 Teeth.
HU162T-10: for 2016 new Audi, 2016 new BMW, 10 Teeth.
HU49(Ignition): for Volkswagen Series, Jetta, Santana, B4, Audi 100, Golf, Old Red Flag.
SIP22(Ignition): for Fiat, Alfa Romeo, Lancia, Maserati.
THANKS FOR COMING TO Barhomevip
WRITE YOUR OWN REVIEW
YOU'RE REVIEWING: 32 Pieces Lishi Lock Pick Full Set with Free Storage Case
HOW DO YOU RATE THIS PRODUCT?
You May Also Like 2 Pieces Lishi BE2-6 BE2-7 Pick and Decoder Tool for BEST A Keyway Locks

2 Review(s) Lishi MAZ24 2-in-1 Pick and Decoder Tool, Locksmith Auto Tool for Mazda

6 Review(s)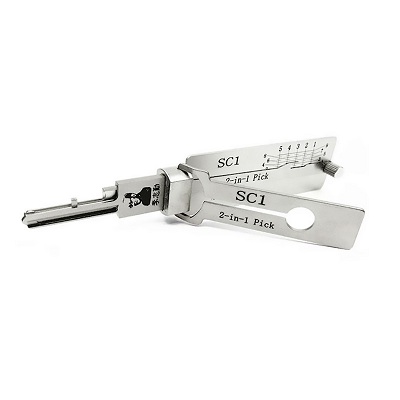 Lishi SC1 2 in 1 Pick Decoder Tool for SC, 5 Pin Keyway Locks

6 Review(s)